Mortgage rates forecast for November 2019
You may have heard that mortgage rates rose recently.
But you might not have heard that rates are still about 1.25% below late-2018 levels, according to Freddie Mac data.
A 10% down, $350,000 home is still about $200 per month cheaper than it was one year ago.
Refinancing homeowners are benefitting, too. Someone with an already-low rate of 4.25% could save $100 per month on a $300,000 loan, again using Freddie Mac's average rate data.
Think you missed out on low rates? Think again. November mortgage rates should stay near 3-year lows.
Show Me Today's Rates (Nov 14th, 2019)
Predictions for November
November will be a wild ride for mortgage rates. Market-moving news will leave rates different than they were in October. The only question is, will they be more or less advantageous for mortgage shoppers?
Skip to:
Forecasts for 2019 put rates somewhere around 3.85% by the end of the year. That's down from predictions earlier in the year that called for rates in the 5s.
Rates steadily dropped from late-2018 to September 2019, when they rose slightly. Rates are still running well below the 4% mark according to Freddie Mac.
Been looking for a good rate on a refinance or home purchase? Now might be the time to lock.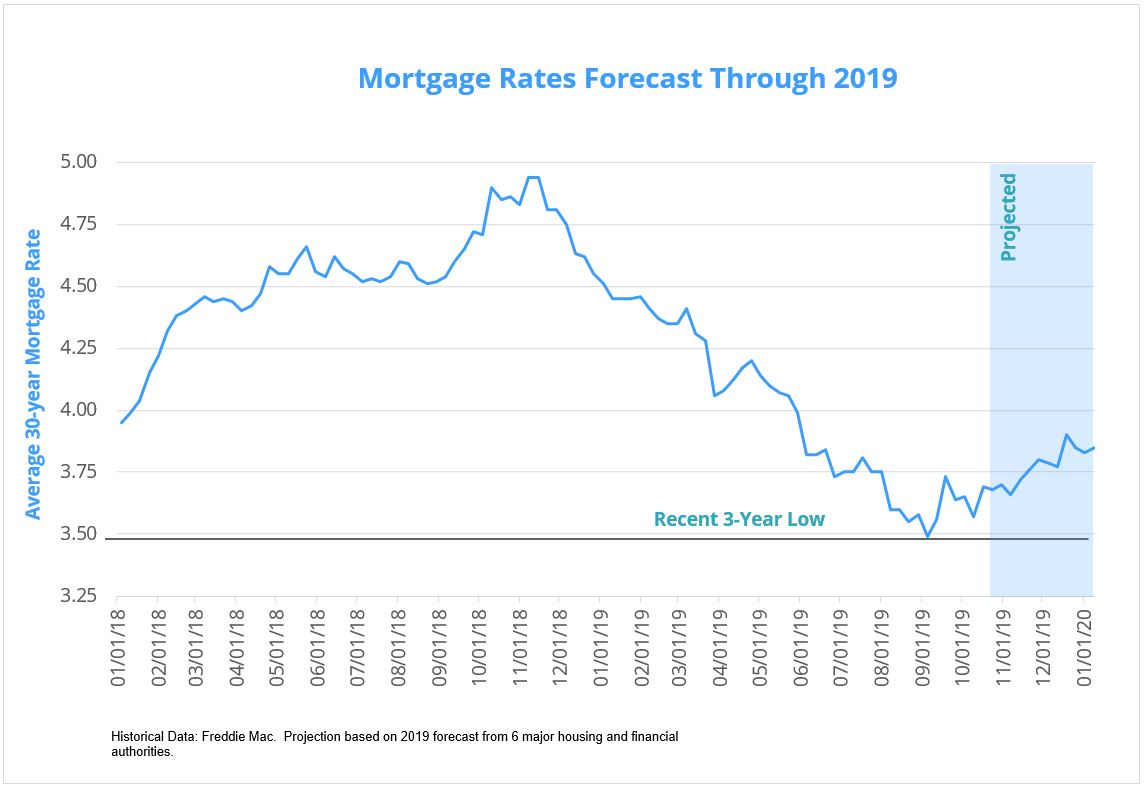 Trump still advocating for lower rates
President Trump is less than ambiguous about his opinion about rates.
In a series of tweets, as well as in a recent White House meeting, Trump declared that the Fed should cut rates to keep in-line with other major economies.
"The Federal Reserve should cut rates regardless of how good this is. We have a great economy, but we have a Federal Reserve that's not in step with the rest of the world. I think they ought to get in step." –President Trump
The Fed doesn't control mortgage rates, but lower Fed rates support an overall low-rate environment. That could spell more affordable housing for homeowners in the U.S.
As rates dip, buying a home becomes more affordable. In fact, buying a $350,000 home with 10% down is about $200 per month cheaper than it was in late 2018, thanks to rates that are around 1.25% lower.
That could mean living closer to work, having one more bedroom, or a larger yard. Low interest rates, in short, can mean better quality of life.
Current homeowners benefit as well, since they can reduce monthly costs with a refinance.
Rates aren't guaranteed to fall, but pressure from the White House goes a long way toward lowering interest rates of all kinds, including mortgage rates.
Compare Rates From Top Rated National Lenders and Save (Nov 14th, 2019)
November will feel the effects of a late-October Fed meeting
The Federal reserve uses "levers" to adjust economic performance in the U.S. One of those levers is the federal funds rate.
It's the rate at which banks can lend each other money, but it affects home equity lines, credit card rates, and even mortgage rates, although indirectly.
On September 18, the Fed cut rates for just the second time since December 2008. (The other one was during the previous meeting on July 31.) Lackluster economic data has combined with pressure from President Trump to cut rates.
Yet the Fed is divided on whether to issue another rate cut in 2019. The September post-meeting announcement indicated that just 7 of 10 voting members approved the 0.25% rate cut that month. Two wanted rates to stay put, and one voting member wanted an even deeper cut of 0.50%
Additionally, most Fed members see the federal funds rate staying put for the rest of 2019, or even rising.
So now all eyes are on the Fed as it prepares for its October 29-30 meeting. As of the time of this writing in mid-October, there was an 86% chance that the Fed would cut rates by another 0.25%, according the CME Group FedWatch tool.
So what does all that mean for mortgage rates in November?
Ironically, mortgage rates could rise in the face of a Fed rate cut. That's because the Fed could indicate lower-than expected chances of additional rate cuts and stimulus in 2020. Markets are always forward-looking, so rates could rise in anticipation of a tighter Fed.
Mortgage rates are already extremely low, so it might not be worth risking higher rates in November if you find a rate you're satisfied with now.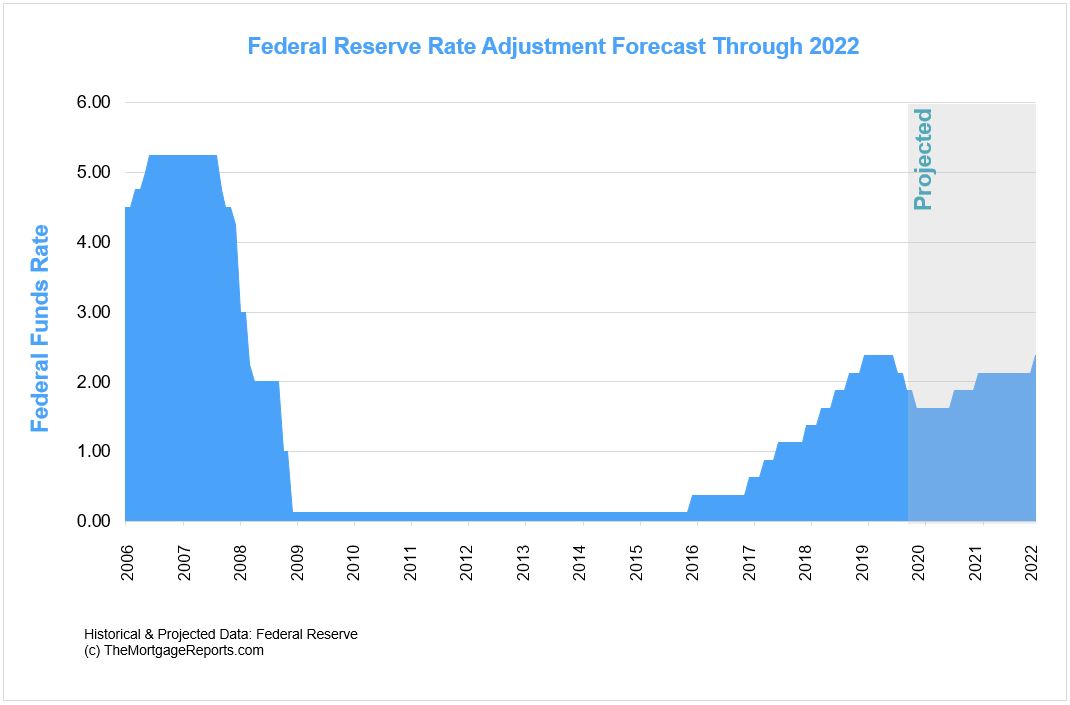 Will mortgage rates stay low?
Though rates may rise somewhat, we are still predicting rates below 4% through 2019.
Rates fell this year until mid-September. Suddenly, mortgage rates rose, perhaps as a correction to an 8-month mortgage rate bull market.
But the fact remains that all the factors that led to low rates in the first place are still present.
Related: 2020 mortgage rates forecast from 10 experts
Rate-suppressing factors include:
China trade war: The U.S. and China recently reached a partial trade deal which increased China's agricultural purchases and dealt with some intellectual property issues. However, the two economic giants will continue to duel and any negative development could push rates lower.
Economic uncertainty: Manufacturing has slowed this year, hitting a 10-year low in August. Trade uncertainty is weighing on businesses and overall economic impact is unclear. Additionally, predictions of recession are becoming more common. Even that possibility is helping keep rates low.
Demand for U.S. financial instruments: Mortgage rates are determined by the price of mortgage-backed securities (MBS). These are financial instruments, bought and sold by investors worldwide. As rates fall in other economies (Japan and Germany are now issuing negative-rate bonds), U.S. mortgages are looking awfully attractive. Even a 3% return on investment is better than 0% or even negative. Imagine if you had to pay to keep your money in a savings account. That's exactly what investors in many economies are doing. U.S. mortgage bonds will continue to deliver positive returns, so investors will pile in. This demand drives down consumer mortgage rates.
If you've been thinking about a home purchase, refinance, or home equity line of credit, this month is looking to be a great one to take action.
Shop and Compare Today's Rates and Save (Nov 14th, 2019)
Mortgage rate trends as predicted by housing authorities
Housing agencies nationwide are calling for rates in the high 3s or low 4s for the remainder of 2019.
| | |
| --- | --- |
| Agency | 30-Yr Rate Prediction |
| National Association of Realtors | 3.50% |
| National Association of Home Builders | 4.20% |
| Mortgage Bankers Association | 3.70% |
| Freddie Mac | 3.70% |
| Fannie Mae | 3.50% |
| Realtor.com | 4.50% |
| Average of all agencies | 3.85% |
To sum it up, rate predictions vary widely. Today's rate might be as good as we'll see for years to come, or they might improve.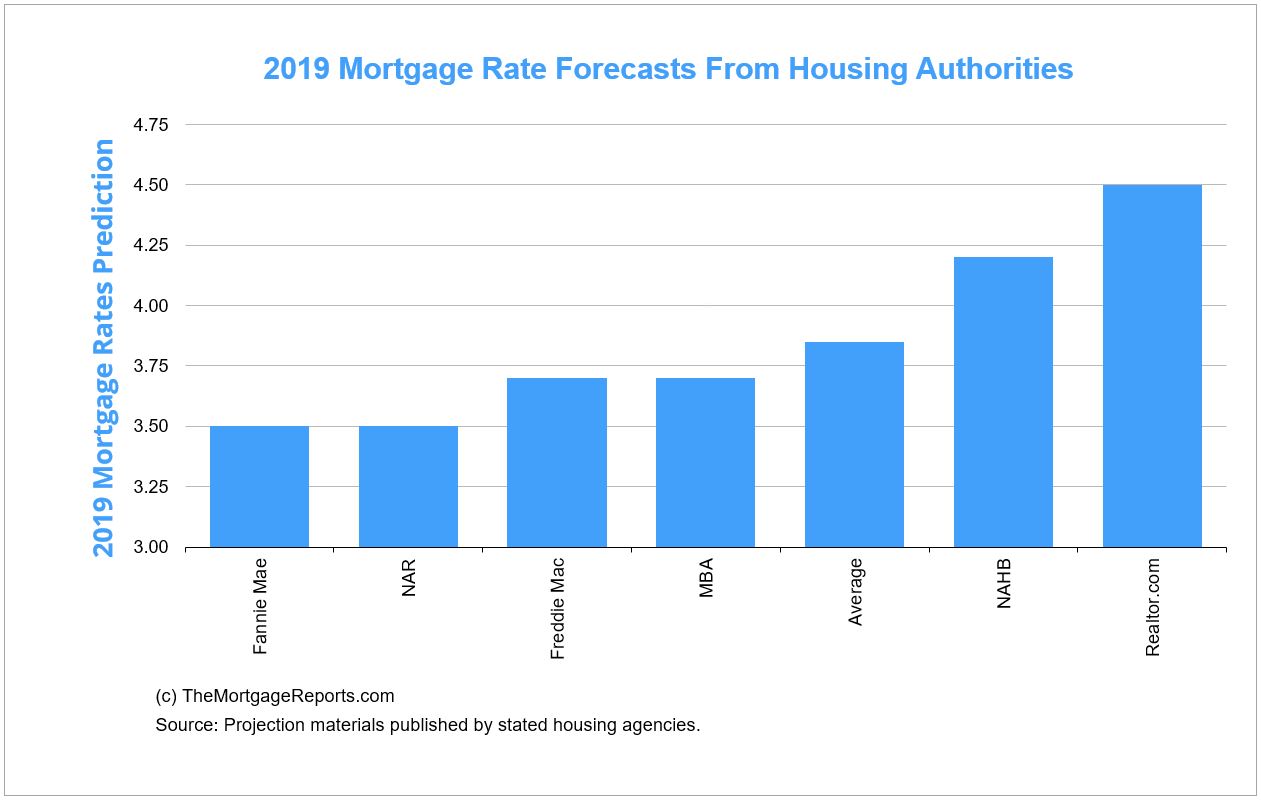 Advice for November 2019
Knowing what will happen in November is only half the battle. As a mortgage rate shopper, you need to know the best actions to take this month.
Buy before home prices rise
All this talk of low rates has not gone unnoticed by new home buyers.
In 2018, buyers were sitting the fence. Now they are jumping off it in droves, running toward any available housing.
According to the National Association of Realtors (NAR), sales of existing homes were up 2.5% in July and another 1.3% in August (the most recent data available).
NAR chief economist Lawrence Yun said, "As expected, buyers are finding it hard to resist the current rates. The desire to take advantage of these promising conditions is leading more buyers to the market."
"Buyers are finding it hard to resist the current rates." –Lawrence Yun, NAR Chief Economist
Rates are low. That makes previously unaffordable homes affordable, to the tune of $200 per month on a $350,000 mortgage, for every 1% rate drop.
But there's a darker side to lower rates: rising home prices.
In the remainder of 2019 and into 2020, home prices are bound to rise and bidding wars to become more commonplace.
Fannie Mae released its Home Purchase Sentiment Index (HPSI), which indicated that 41% of consumers believe home prices will rise in the next 12 months, a 5-point bump from the previous month.
Renters should seriously consider capitalizing on today's combination of ultra-low rates and still-reasonable home prices. A year from now, they might be glad they did.
Compare Rates From Top Rated National Lenders and Save (Nov 14th, 2019)
It's time to discover your new buying power
You might be surprised at what you can afford for $1,500 per month.
In a recent study, The Mortgage Reports calculated how much you could buy with that payment, this year versus last.
In September 2018, a $375,000 home was in reach. But at current rates, buying power has increased to over $400,000 with the same payment.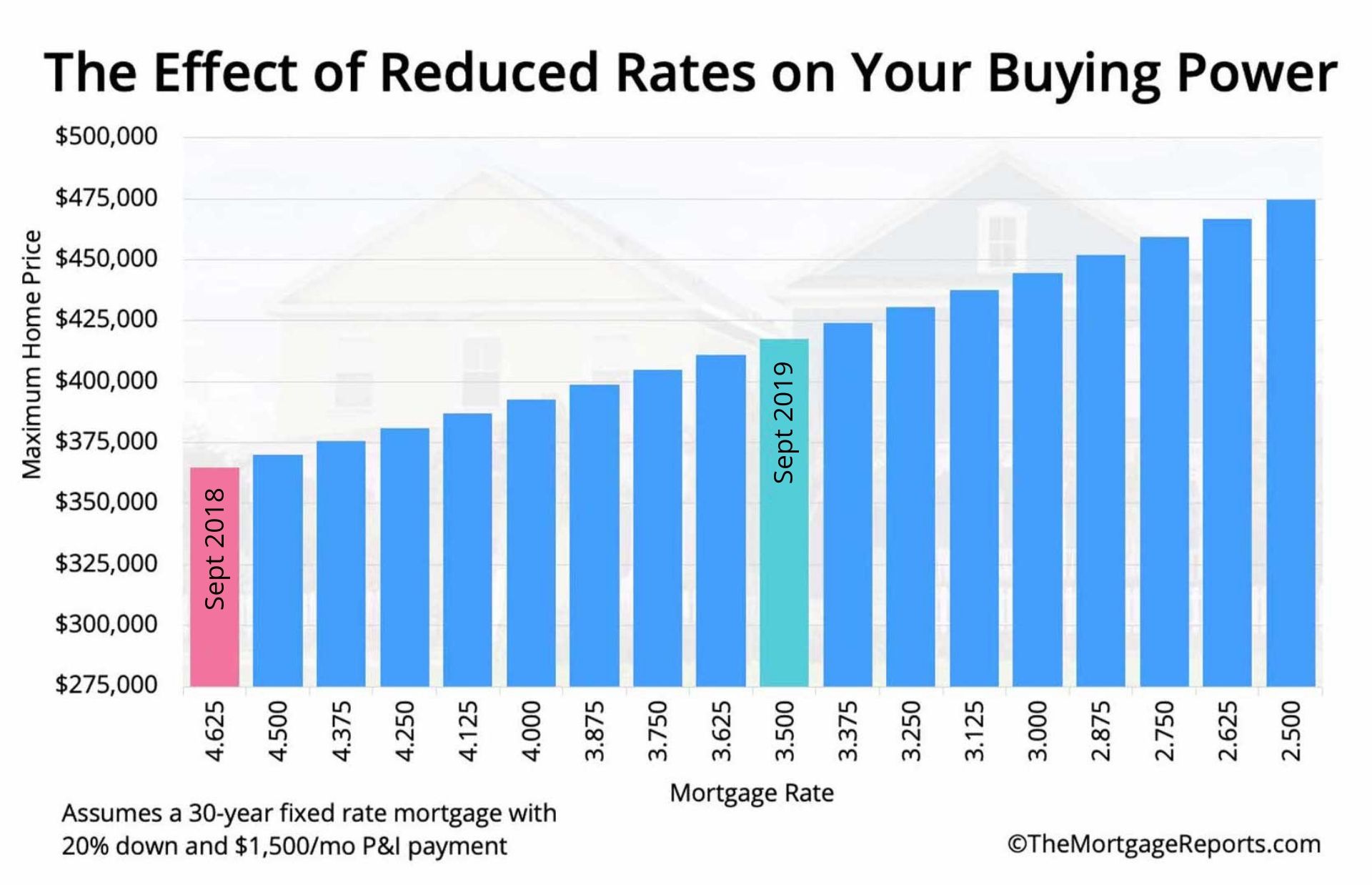 For every 1.0% rate drop, you can afford about 11% more home.
If you think you've been priced out of the market, it's time to take another look. You might be able to afford more than you thought, thanks to current rates.
Loan product rate updates
Many mortgage shoppers don't realize there are many different types of rates. But this knowledge can help home buyers and refinancing households find the best value for their situation.
Following are updates for specific loan types and their corresponding rates.
Conventional loan rates
Conventional refinance rates and those for home purchases are still low despite recent increases.
According to loan software company Ellie Mae, the 30-year mortgage rate averaged 3.96% in September (the most recent data available).
This is higher than Freddie Mac's 3.69% average because it factors in low credit and low-down-payment conventional loan closings, which tend to come with higher rates. Additionally, the most recent Ellie Mae report shows rate levels before they started dropping significantly.
Lower credit score borrowers can use conventional loans, but these loans are more suited for those with decent credit and at least 3% down. Five percent down is preferable due to higher rates that come with lower down payments.
Twenty percent of equity is preferred when refinancing.
With adequate equity in the home, a conventional refinance can pay off any loan type. Got an Alt-A, subprime, or high-PMI loan? A conventional refi can take care of it.
For instance, say you purchased a home three years ago with an FHA loan at 3.5% down. Since then, home values have skyrocketed.
You refinance into a conventional loan (because you now have 20% equity) and eliminate FHA mortgage insurance.
This could be a savings of hundreds of dollars per month, even if your interest rate goes up.
Getting rid of mortgage insurance is a big deal. This mortgage calculator with PMI estimates your current mortgage insurance cost. Enter 20% down to see your new payment without PMI.
Shop and Compare Today's Rates and Save (Nov 14th, 2019)
FHA mortgage rates
FHA is currently the go-to program for home buyers who may not qualify for conventional loans.
The good news is that you will get a similar rate — or even lower one — with an FHA loan than you will with conventional.
Related: Read more about FHA costs and requirements on our FHA loan calculator page.
According to loan software company Ellie Mae, which processes more than 3 million loans per year, FHA loan rates averaged 3.96% in September (the most recent data available), matching the average conventional rate.
Another interesting stat from Ellie Mae: About 30% of all FHA loans are issued to applicants with scores below 650.
FHA loans come with mortgage insurance. But the overall cost is not much more than for conventional loans.
A little-known program, called the FHA streamline refinance, lets you convert your current FHA loan into a new one at a lower rate if rates are now lower.
An FHA streamline requires no W2s, pay stubs, or tax returns. And you don't need an appraisal, so home value doesn't matter.
Learn more about the FHA streamline refinance here.
Compare Rates From Top Rated National Lenders and Save (Nov 14th, 2019)
VA mortgage rates
Homeowners with a VA loan currently are eligible for the ever-popular VA streamline refinance.
No income, asset, or appraisal documentation is required.
If you've experienced a loss of income or diminished savings, a VA streamline can get you into a lower rate and better financial situation. This is true even when you wouldn't qualify for a standard refinance.
But don't overlook the VA loan for home buying. It requires zero down payment. That means if you have the cash for closing costs, or can get them paid for by the seller, you can buy a home without raising any additional funds.
Don't overlook the VA loan for home buying. It requires zero down payment.
VA mortgages are offered by local and national lenders, not by the government directly.
This public-private partnership offers consumers the best of both worlds: strong government backing and the convenience and speed of a private company.
Most lenders will accept scores down to 620, or even lower. Plus, you don't pay high interest rates for low scores.
Quite the contrary, VA loans come with the lowest rates of all loan types according to Ellie Mae. In September (the most recent data available), 30-year VA mortgage rates averaged just 3.69% while conventional loans averaged 3.96%, representing a big discount if you're a veteran.
Check your monthly payment with this VA loan calculator.
There's incredible value in VA loans.
Shop and Compare Today's Rates and Save (Nov 14th, 2019)
USDA mortgage rates
Like FHA and VA, current USDA loan holders can refinance via a "streamlined" process.
With the USDA streamline refinance, you don't need a new appraisal. You don't even have to qualify using your current income. The lender will only make sure that you are still within USDA income limits.
More about the USDA streamline refinance.
Home buyers are also learning the benefits of the USDA loan program for home buying.
No down payment is required, and rates are ultra-low.
Home payments can be even lower than rent payments, as this USDA loan calculator shows.
Qualification is easier because the government wants to spur homeownership in rural areas. Home buyers might qualify even if they've been turned down for another loan type in the past.
Compare Rates From Top Rated National Lenders and Save (Nov 14th, 2019)
Mortgage rates today
While a monthly mortgage rate forecast is helpful, it's important to know that rates change daily.
You might get 3.9% today, and 4.0% tomorrow. Many factors alter the direction of current mortgage rates.
To get a synopsis of what's happening today, visit our daily rate update. You will find live rates and lock recommendations.

November's economic calendar
The next thirty days hold no shortage of market-moving news. In general, news that points to a strengthening economy could mean higher rates, while bad news can make rates drop.
Wednesday, October 30: Fed meeting adjourns, rate announcement
Friday, November 1: Nonfarm Payrolls, wages, unemployment rate
Friday, November 1: ISM Manufacturing
Tuesday, November 5: ISM Services
Wednesday, November 13: Consumer Price Index
Friday, November 15: Retail Sales
Thursday, November 21: Existing Home Sales
Now could be the time to lock in a rate in case these events push up rates this month.
What are today's mortgage rates?
Low mortgage rates are still available. You can get a rate quote within minutes with just a few simple steps to start.
Show Me Today's Rates (Nov 14th, 2019)
Selected sources:
https://www.nar.realtor/research-and-statistics/housing-statistics/existing-home-sales
https://www.elliemae.com/mortgage-data/origination-insight-reports
https://www.federalreserve.gov/monetarypolicy/fomccalendars.htm
https://www.cmegroup.com/trading/interest-rates/countdown-to-fomc.html