HARP Loan Program : Eligibility & Mortgage Rates for 2017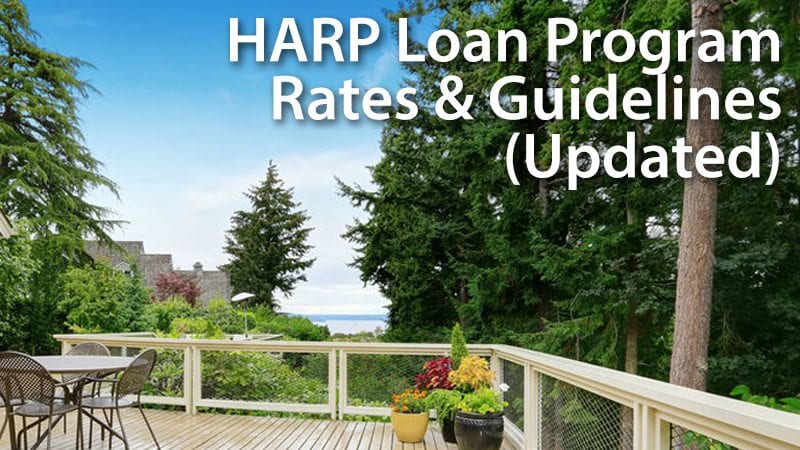 ---
In this article:
---
What Is The HARP Program?
HARP stands for Home Affordable Refinance Program, and was created by the federal government in March of 2009. The program will terminate on September 30, 2017.
HARPÂ also goes by these names: Making Home Affordable, the Obama Refi, A Better Bargain for U.S. Homeowners, DU Refi Plus, and Relief Refinance.
HARP is not the same as HAMP, the Home Affordable Modification Program. That program was designed for borrowers at risk for default and was discontinued in December 2016.
The HARP refinance was created to allow homeowners whose mortgage balances exceed their property value (this is often called being "underwater") to refinance their home loans.
Click to see your HARP eligibility (Jul 28th, 2017)
Who Is Eligible For HARP?
Any property type eligible for Fannie Mae or Freddie Mac loans is eligible for a HARP refinance. That includes single-family residences, condominiums, co-ops, manufactured homes, and 2-to-4-unit properties.
The properties do not have to be primary residences. You can refinance vacation and rental homes, too.
There is no maximum income for HARP eligibility. However, not everyone is eligible to refinance with the program. Here are the main HARP loan qualifications:
Your loan must be backed by Fannie Mae or Freddie Mac
Your loan's "note date" must be on or before May 31, 2009
You cannot have previously used the HARP program on your home
Your payments must be current, with no 30-day+ late payments in the last six months and no more than one in the past 12 months
Your loan-to-value (LTV) must be 80 percent or higher
Click to see your HARP eligibility (Jul 28th, 2017)
Determining Your HARP Eligibility
You can find out if Fannie Mae or Freddie Mac backs your loan by checking online. Fannie Mae and Freddie Mac both have look-up pages that tell you if they have your loan or not. Your loan must show up on one of these two sites to be eligible for HARP.
That means if your loan is an FHA, USDA, VA or a jumbo (non-conforming) mortgage, you are not HARP-eligible. Sub-prime and Alt-A loans (loans with no income verification, for example) are not HARP-eligible.
However, government-backed loans all have their own streamline refinance programs for underwater mortgages:
HARP Eligibility: What Doesn't Matter
If your loan is backed by Fannie Mae or Freddie Mac, it doesn't matter who you send your payments to or what lender name is on your mortgage documents.
As long as your loan shows up on the Freddie Mac or Fannie Mae look-up pages, the lender can be Bank of America, Chase, Citi, Wells Fargo or any other bank or mortgage company.
If your loan is backed by Fannie Mae or Freddie Mac, it doesn't matter if it has features like a 40-year term, interest-only payments or balloon payments.
However, being eligible is just the beginning. You must meet additional HARP loan requirements to qualify.
Qualifying and Applying For HARP
Once you know who is backing your mortgage, you can find a HARP program and refinance your home loan.
You do not have to use your current lender for your HARP refinance. Not all lenders participate in the program, and qualification varies from lender to lender.
If you apply and are turned down by one lender, another may approve your HARP application. You can apply with any participating mortgage lender.
Click to see your HARP eligibility (Jul 28th, 2017)
"Official" HARP Guidelines
The government has set very few requirements for HARP borrowers. That's because the loans are already backed by government-controlled entities (Fannie and Freddie), so the government is already on the hook if the homeowner defaults.
Anything that reduces the chance of default, like refinancing to a lower mortgage rate, is a good thing from the government's point of view. Officially:
There is no minimum credit score for HARP participants.
There is no maximum loan-to-value (LTV) if you refinance to a fixed loan with a term of 30 years or less.
The maximum LTV is 105 percent if you refinance to an adjustable rate mortgage (ARM).
There is no appraisal requirement.
There is less paperwork and income verification is less strict.
Income Qualifying
According to official HARP guidelines, you can be unemployed and use the HARP loan to refinance. The lender doesn't have to "re-qualify" your income unless the new principal plus interest payment increases by more than 20 percent. If the new payment increases by less than 20 percent, or drops, the lender does not have to re-verify your income.
However, individual mortgage lenders may impose stricter guidelines. They are allowed to do this.
If you can't prove your income, and your lender requires verification, you may still get an approval by using your savings to qualify. HARP guidelines let you substitute 12 months of PITI in reserves for actual verifiable income.
PITI stands for Principal, Interest, Taxes, and Insurance. So, if you can show that you have 12 months of housing payments in your savings or investment accounts, HARP lenders will treat those reserves as "income."
Bankruptcy
In 2011, HARP guidelines were changed to allow otherwise eligible applicants with recent bankruptcies to refinance. Fannie Mae announced:
"Fannie Mae is removing the requirement that the borrower (on the new loan) meet the standard waiting period and re-establishment of credit criteria in the Selling Guide following a bankruptcy or foreclosure. The requirement that the original loan must have met the bankruptcy and foreclosure policies in effect at the time the loan was originated is also being removed."
This means that you can qualify for the program even if you have a recent bankruptcy.
"Unofficial" Guidelines: Lender Overlays
"Lender overlays" are guidelines that are stricter than the ones set out by the Federal Housing Finance Agency, which oversees Fannie Mae and Freddie Mac. These can vary, so an application that is turned down by one lender may be approved by another.
While the government has set no minimum credit score, many lenders require FICO scores of at least 620.
Some lenders set their maximum LTV at 105 percent or 125 percent.
To determine your LTV, some lenders require an appraisal.
Some lenders may insist on traditional income verification.
If you apply for a HARP refinance and get turned down by one lender, try a different lender.
In almost all respects, HARP works the same whether your loan is with Fannie Mae or Freddie Mac. There are some small differences, but they affect just a tiny, tiny portion of the general population. For most people, though, the guidelines work the same.
HARP And Mortgage Insurance (PMI Or LPMI)
When HARP was first created, there were significant issues with mortgage insurance. Many homeowners were told they could not use the HARP mortgage program because they had PMI, or that they could only refinance with their current lenders if they had PMI.
The fact that you have PMI does not disqualify you for HARP. If you have lender-paid PMI, or LPMI, that does not disqualify you for HARP either.
It's your loan officer's responsibility to make sure that your new mortgage carries, at minimum, the same amount of coverage as your old mortgage.
If your lender tells you that having PMI or LPMI makes you ineligible, this is incorrect. Find another lender.
Click to see your HARP eligibility (Jul 28th, 2017)
Mortgage Insurance Coverage Requirements
If your current loan does not have PMI, your HARP loan will not require PMI either. Even if your home value has fallen to the point that your LTV is over 80 percent.
If you currently pay PMI, based on the LTV of your current loan, your required coverage and rate will not increase, even if your LTV is now higher. Closing a HARP loan with PMI can take longer, because the insurance coverage must be transferred with the loan.
If you have LPMI, make sure you disclose this when you apply for your refinance, so your loan officer knows what to do. Otherwise, your loan could be delayed in processing.
To find out if your mortgage has lender-paid mortgage insurance (LPMI), locate your loan paperwork from closing. There should be a clear disclosure that states that your mortgage features LPMI, and the terms should be clearly labeled for you.
What HARP Can Do For You
If your mortgage is old enough to be eligible for HARP, chances are excellent that today's mortgage rates are much lower than what you're currently paying. That can save you substantial interest charges.
You can stabilize an ARM by refinancing to a fixed-rate home loan.
If you want to remove a co-borrower on the mortgage, like an ex-spouse, you can do this with the HARP mortgage program. The co-borrower must also be removed from the deed and have no ownership interest in the home.
You can reduce your interest expense and loan costs by refinancing to a shorter loan term.
What HARP Can't Do For You
However, HARP is not a program for borrowers who are behind on their mortgage payments. It does not reduce your principal balance, like a mortgage modification might.
You cannot refinance your way out of foreclosure with HARP.
HARP was designed to help underwater borrowers refinance their current loans into new mortgages with better terms. You can still use HARP if you have an LTV as low as 80 percent, but you cannot use HARP for cash-out refinancing.
You cannot consolidate multiple mortgages into a HARP loan. That means you can't combine a first and second mortgage into a new HARP mortgage.
Click to see your HARP eligibility (Jul 28th, 2017)
Second Mortgages, Home Equity Loans And HELOCs
You cannot use HARP to refinance any mortgage that is not the primary loan (the first mortgage).
When you refinance your first mortgage with HARP, you must either pay off any second mortgage you have, or subordinate it to the new loan. Your title company should be able to take care of subordination for you.
Note that the lender with your second mortgage can choose not to subordinate the loan. In that case, you will have to pay it off or refinance it with a lender willing to subordinate to the HARP.
How To Shop For The Best HARP Mortgage
If your current lender tells you that you must do your HARP refinance with it, that's probably not true. Except in rare cases, you can work with any participating lender in the country. And there are a lot of them.
You should always compare HARP mortgage rates, because they can vary widely from bank-to-bank. You may save a lot of money just by getting a second opinion on your mortgage.
What Are HARP Mortgage Costs?
The costs are the same as they are for standard refinances. There are no extra fees that would not apply to a "regular" refinance.
Just like a regular refinance, what you pay depends on the rate and terms of the loan (lower interest rates generally cost more than higher rates), the lender's policy, your credit rating, and how much you shop for your loan.
You may even pay less for a HARP than a standard refinance.  That's because the risk-based pricing adjustments (called loan level pricing adjustments, or LLPAs) normally required by Fannie Mae and Freddie Mac are limited to just .75 percent. This can be a big help if your credit scores aren't the greatest.
Even better than that, if you refinance to a loan with a term of 15 years or less, there are no LLPA charges. Zero.
Click to see your HARP eligibility (Jul 28th, 2017)
Can You Include Refinancing Costs In A HARP Loan?
You can wrap your closing costs like lender fees, title insurance, and escrow services into the new loan.  However, you can only do this as long as the loan size won't exceed local conforming loan limits.
In fact, that is what many lenders do when they advertise a "no-cost" HARP loan. They cover the charges either by increasing the interest rate or adding the costs to your loan balance. This way, you do not have to pay anything out of pocket.
In most U.S. markets, this limit is $424,150 for a single family home. In certain high-cost areas like Orange County, California and Fairfax, Virginia, the limit runs as high as $636,150.
 New Programs Will Replace HARP
If you miss the deadline for HARP application, you may have an alternative. In October 2017, Fannie Mae's High Loan-to-Value Refinance Option and Freddie Mac's Enhanced Relief Refinance will replace HARP.
Program details will be released on this site as they become available.
What Are Today's HARP Mortgage Rates?
Current mortgage rates for HARPÂ and other refinance plans are very favorable, especially compared to the rates of most HARP-eligible mortgages. For the best HARP loan rates, contact several competing lenders and compare offers.
Click to see your HARP eligibility (Jul 28th, 2017)
The information contained on The Mortgage Reports website is for informational purposes only and is not an advertisement for products offered by Full Beaker. The views and opinions expressed herein are those of the author and do not reflect the policy or position of Full Beaker, its officers, parent, or affiliates.
Try the Mortgage Calculator