Cash-Out Refinance Vs Home Equity Loan: The Better Deal Might Surprise You
Cash-Out Refinance Probably Makes No Sense — Except For You
With the majority of homeowners in the US happily sitting on mortgage interest rates between three and and five percent, why on earth would anyone ever consider  a cash-out refinance to get extra money?
According to the New York Mortgage Survey Report, in February 2016, the average mortgage borrower was paying a sweet rate of 4.21 percent. So why would they replace that mortgage when today's current 30-year mortgage rates aren't much different?
In addition, there may be significant costs involved, like title insurance, escrow fees and lender charges. So why bother?
Because a cash-out refinance may still be your cheapest and best option when you need big money.
Verify your new rate (Feb 21st, 2019)
How To Choose Cash-Out Refinance Or Home Equity
The best option for you depends on several factors:
How much money do you need?
How much equity do you have?
What's your time frame for repayment?
What's your tax pro say?
How much are you risking?
Here are are several examples of cash-out mortgage decisions, so you can get a feel for the way real situations work.
Cash-Out Refinance For Smaller Home Repair?
Mrs. Etheridge, a retiree, owns a house worth about $400,000. She owes $200,000 and needs about $25,000 to make some needed repairs. Her current mortgage is a 30-year fixed loan at 4.0 percent. She's being offered about 4.0 percent today for a cash-out mortgage.
The added payment for the extra $25,000 over 30 years is about $119 a month.
However, most mortgage lenders in the US that are not government-backed add surcharges (extra fees) for home loans with cash out. In Mrs. Etheridge's case, these fees are just .375 percent ($844) because her balance is so low (less than 60 percent of her home vale) and her credit is excellent.
Title And Escrow
She qualifies for a "re-issue" rate from her title company, typically up to a 40 percent discount, because the home was purchased just a few years ago.
However, when you buy a home, the seller often pays half of the title charges — with a refi, you get to pay them all yourself. So if Mrs. Etheridge spent $1,000 on title and escrow when she bought her house, a cash-out refinance will likely come with similar fees.
Note also that the charges are calculated based on the entire loan amount, not just the extra $25,000.
Verify your new rate (Feb 21st, 2019)
Lower Credit Means Tougher Deals
If Mrs. Etheridge had less equity and a lower credit score, that cash-out surcharge could balloon to over three percent ($7,313, which is 30 percent of the money she wanted for her repairs!).  Add in the lender charges and title / escrow fees, and her loan costs could swell to about half of the amount she wanted to borrow.
She'd be better off putting it on a credit card, taking a personal loan, or (best deal) choosing a home equity loan or HELOC with a lower rate and few to no costs.
When The Cash-Out Refinance Makes Sense
In general, the more cash out you need, the more likely it is that this option is viable.
For instance, suppose Mrs. Etheridge owes just $100,000 on her $400,000 house, and wants another $100,000 for a major home addition. She still gets the .375% surcharge for cash-out, which is $750. She still has the title and escrow charges — approximately another $1,000. But these fees come to just 1.75 percent of the amount she wants to borrow.
The added payment for $100,000 at four percent is $740 a month.
On the other hand, a $100,000 loan at the typical home equity rate and term (7.5 percent and 15 years), increases her monthly expenses by $927.
If you're on a tight budget, that's a major consideration.
The chat below shows instances in which it makes sense to choose cash out refinance mortgages over home equity loans. The more favorable terms are highlighted in green, the less favorable ones in red.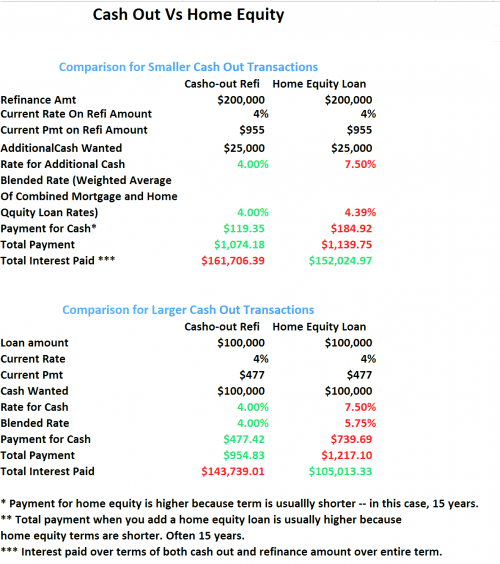 Lower Rate Or Payment
If your credit has improved, your home equity has increased, or you've just become better at shopping for mortgages, you might be able to get the cash you need and a lower interest rate.
Your payment might even drop as well — especially if you use your cash out to get rid of higher-interest accounts like credit card debt.
Keep in mind that not only does your mortgage rate drop when your profile improves, so does your mortgage insurance (if you can't get rid of it altogether).
If you can get a better mortgage than the one you have now, and procure the cash out you need, that's kind of a no-brainer. Get your cash-out loan.
Other Reasons
If you have an FHA home loan, and are currently paying the annual mortgage insurance fees of .85 percent, refinancing could reduce your rate by a quarter point to .60 percent. This could effectively reduce your total interest rate, while allowing you to get cash out up to 85 percent of your home's value.
So if Mrs. Etheridge wanted more cash out, she could borrow as much as $240,000, in addition to paying off her current $100,000 loan.
The downside is that FHA mortgage insurance comes with a 1.75 percent upfront mortgage insurance fee. It can be wrapped into the loan amount.
Big Bucks, Big Savings
Typically, home equity loans and lines come with higher interest rates than cash-out refinances. They also tend to have much lower closing costs. So if a new mortgage rate is similar to your current rate, and you don't want to borrow a lot of extra cash, a home equity loan is probably ypur best bet.
Second mortgage (home equity) rates run between five and ten percent for most borrowers (with terms of 15 years), and closing costs may even be absorbed by the lender.
So Mrs. Etheridge might get a 7.5 percent rate on her $25,000 repair loan with home equity loan. Note, though, that the payment would be higher because of the shorter repayment period — $232 a month. If stretching your income is a concern, the cash-out loan might be a better choice.
The "Blended Rate" Calculation
One way consumers can determine if it's better to get a cash out refi or add a home equity loan is called the "blended rate." The worksheet below shows how this works.
How to Calculate a Blended Rate
Rate
Amount
Portion of Total
Weighted Rate (Rate * Portion)
Loan 1
6%
 $      100,000
67%
3.67%
Loan 2
8%
 $        50,000
33%
2.67%
Total
 $      150,000
100%
6.33%
In this case, the blended rate is 6.33 percent.
What Are Today's Mortgage Rates?
Current cash-out mortgage rates today might be better than you think. Especially if your credit or equity has improved in the last couple of years. Check with several mortgage lenders and see if you can do better than you are now.
Verify your new rate (Feb 21st, 2019)